Dada Mail v5.2.0 Released, Rich Text Editors!
From: "Dada Mail Announcement List" <justin@dadamailproject.com>
Subject: Dada Mail v5.2.0 Released, Rich Text Editors!
Dada Mail Five Point TWO Point Zero has just been released.
We've focused our attention on WYSIWYG editors: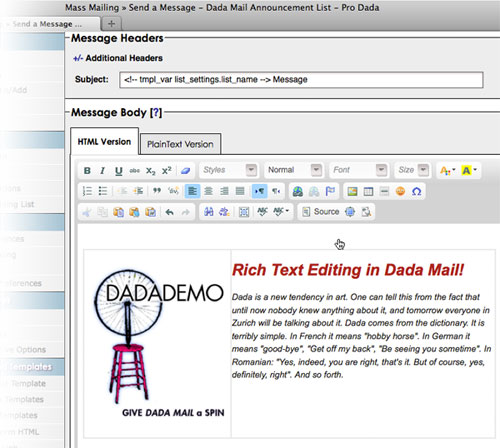 Author your HTML email messages in rich text, right from within the List Control Panel.
Dada Mail now comes bundled with three different WYSIWYG editors to choose from: CKEditor, Tiny MCE and FCKeditor. KCfinder, an image/file browser/uploader, is also bundled. Dragging and Dropping images right into the editor window is also supported.
All these utilities can be installed easily using the included Dada Mail Installer. No need to download, configure, and install anything extra.
We've streamlined the Send a Message and Send a Webpage screens to better utilize and more cleanly present these editors, while still allowing you full flexibility on how you author your messages: We've moved to a tabbed interface for the mailing list message, so that you can easily toggle between your HTML Version and your PlainText version, without unnecessary scrolling. (More details in the changelog)

As of September, 1st 2012, we will be concluding the current Pro Dada 4EVER offer! Please take advantage of 4EVER, before it's forever gone.
PRO DADA 4EVR ($50) a lifetime access to the Dada Mail User Manual, as well as Pro Dada. (More Information)
Pro Dada comes without a footer back to our support site and without mailing list or subscriber size quotas. The best part? Access to Pro Dada and the Dada Mail Manual is yours, for the life of the Dada Mail Project.
A huge thanks goes to everyone that has been supporting Dada Mail through it's amazing 12+ year run of development by purchasing Pro Dada!
Order Securely using PayPal or Google Checkout
The Pro Dada Manual has a chapter dedicated to every screen in the list control panel, to provide help right where you need it.
Read a Sample Chapter (or two (or three))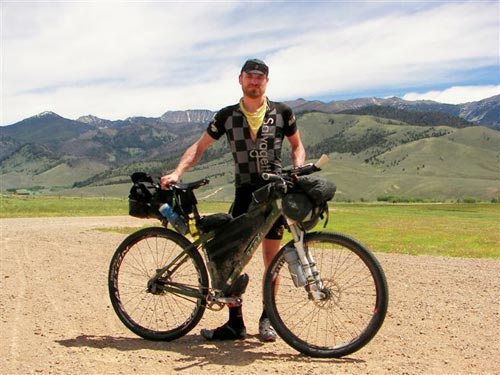 Thank You! everyone, for your support, while I was gone last June, racing across the country. I'm happy to report, I was the first across the finish line, riding a single-speed bicycle! Big news! - Justin
Thanks,
for once again for taking the time to read our announcement message and for your amazing and continued support of the Dada Mail Project.
Justin J
Lead Dadaist
The Dada Mail Project
This mailing list is a public mailing list - anyone may join or leave, at any time.

This mailing list is announce-only.
Get updates when new versions of Dada Mail are released, new features are available, and general news about Dada Mail.
Privacy Policy:
This Privacy Policy is for this mailing list, and this mailing list only.
Email addresses collection through this mailing list are used explicitly to email our newsletter subscribers news and announcements about the Dada Mail Project. The Dada Mail Project is run by Simoni Creative. We send an announcement email out to our subscribers every few weeks.
We only collect email addresses through our Closed-Loop Opt-In system.
We don't use your email address for any other purpose.
We won't be sharing your email address with any other entity.
Unsubscription can be done at any time. Please contact us at: justin@dadamailproject.com for any help regarding your subscription, including removal from the mailing list.
All mailing list messages sent from us will include a subscription removal link, which will allow you to remove yourself from this mailing list automatically, and permanently.
All consent to use your email address for any other purpose stated at the time of the mailing list subscription will also be revoked upon mailing list removal.