Dada Mail 11 is here!
Email Themes, HTML Email Messages For All!
Make running your business and personal mailing lists easy, fun, and inexpensive.
Dada Mail is a contemporary mailing list manager, enabling you to easily run a verified mailing list that your subscribers can trust - right on your own website!
Keep complete control over your valuable mailing lists: there's no need to sign up for an expensive monthly service when you can self-host Dada Mail.
Reach your customers via email with Dada Mail and keep them connected with your special news, announcements, events, and special offers - even run community discussion lists. Private lists or public lists; anouncement lists or group lists: let Dada Mail work for you.
Easily install Dada Mail yourself on most any popular hosting setup, or have us help you with a professional installation.
Become a Pro Dada Mailer : get access to Pro Dada, our constantly updated manual, as well as direct priority support for all your Dada Mail questions.
Need more email sending power? Dada Mail optionally supports sending with Amazon SES for an almost unlimited sending capability, without going over-budget.
Ready?
Features at a Glance:
Mass Mailing
Send both HTML, or PlainText Messages, using the supplied rich text editor (CKEditor, Tiny MCE)
Support for Attachments
Optionally convert PlainText messages to HTML (all HTML messages are sent as multipart/alternative)
Send an HTML message, by supplying a URL to the message (Send a Webpage). Embedded Images, and Javascript removal supported
Optionally convert CSS blocks in the head of HTML messages to Inline styles, automatically (requires CSS::Inliner, installed seperately)
Partial List Sending: send to only part of your mailing list, based on a search of subscriber's email address, and Profile Fields (First Name, Last Name, Custom Field #3, etc)
Send via any mail reader (Outlook, Apple's Mail.app, Gmail, etc) and have full-fledged discussion lists using the included Bridge plugin
Save as Draft support, and messages auto-saved every minute
Stationery: keep persistant messages that you may then create new draft messages from
Schedules: schedule single or recurring mass mailing to be sent in the future
Email Analytics
Every Mass Mailing sent can track the following:

Message Opens
# Message Recipients
Clickthroughs
Unsubscribes
Bounces (soft/hard)
Sending Errors
Archive Views
Forwards

Optionally, you may track the email address of your mailing list memeber
Clickthrough links can be automatically tracked, or manually tracked (pick which links you would like to track)
Data is presented in a variety of ways: circle graphs, line graphs and tabular data
Data can be exported in .csv format, in many different ways: by email message, analytic type, email address, etc
Mass Mailing Monitor
Monitor all your current Mass Mailings
View which mailing are active, queued, paused or stale
View % done of each mass mailing, speed of mass mailing, and current mass mailing send time
Pause, Pickup, and Delete Mass Mailings
Set how many mass mailings can go out at once

View Mass Mailing logs, and save logs to be studied later
Membership
View and Search through (paginated) all your Subscribers, Black Listed, Authorized Senders, etc. Sort asc/desc by email address, or any Profile field.
Remove specific subscribers, as well as all subscribers at once
View individual subscribers, and update their email address, profile fields, and sublists they're a member of
Mass update members, based on advanced queries
View membership history of individual subscribers (subscription confirmations, subscriptions, removals, etc)
Mailing List Options
Make your mailing list Invite-Only, Closed, Private, and/or Hidden
Subscription Confirmation Options: enable/disable Closed Loop Opt-In, subscription request abuse protection, custom redirects after confirmation, subscriptions
Optionally approve/deny any subscription made
Subscription notices to list owner/entire mailing list
Send the newest archive to new subscribers
Subscribe addresses en mass via the list control panel (optional)
Send, "Welcome" and, "Farewell" messages
MX Lookup support for email validation
Unsubscription system fully conforms with CAN SPAM 2008: all messages sent in a mass mailing are required to have a working unsubscription link, that when clicked, goes to a screen with a simple one-field form, for the subscriber to type in their email address, to be removed (w/an optional email hint supplied)
Mail Sending
Send email via sendmail, SMTP or Amazon SES
SMTP sending supports SASL + POP-before-SMTP authentication, secure connections (SSL)
Set charset, content-type, message header encoding (UTF-8 is fully supported)
Mass Mailing supports batch sending: send # messages per hour, auto batch settings are supported for Amazon SES, which dynamically adjust according to your current SES sending limits.
SMTP sending supports multiple messages sent per SMTP connection; SES supports multiple messages sent per API call
Archiving
Archive your mass mail messages,
Editing support
Publically display archives, w/search
Email protection options (Spam-Me-Not ReCaptcha Mailhide)
Forward to a Friend support
Gravatar support
rss/atom feeds of messages
embed HTML feed of messages in any webpage using a simple Javascript call.
Appearance
Edit and customize a mailing list's user-facing layout and design, as well as customize a globaly used template.
Magic User Templates: base your user-facing template on an existing webpage
Edit and customize the mailing list message template, to apply a custom header and footer to all outgoing mailing list messages.
Edit and customize various transactional email messages Dada Mail sends, including subscription confirmation, subscription successful, unsubscription successful, and forward to a friend messages
Copy the subscription form HTML needed to place a subscription form for your mailing list, on any page of your website
Profiles Fields
Add, Edit and Remove custom Subscriber Profile Fields (First Name, Last Name, Favorite Color, etc)
Set default values and if the field is required or not
Change order of Profile Fields
Plugins/Extensions
Deployment Environment
Run under CGI or FastCGI - easy to setup, works on inexpensive hosting environments
Run under PSGI/Plack - high performance, perfect for very busy mailing lists
Get Dada Mail Now
Dada Mail
Free!
Get started with Dada Mail! Transform your install into Pro Dada later
No Support
Limitations: up to three mailing lists; 100 subscribers per mailing list
No access to Pro Dada Manual
Pro Dada, One-Year Subscription
$99.95/year
Get access to Pro Dada, the Dada Mail Manual, and direct, prioritized support

Direct, Prioritized Support
Unlimited Mailing Lists + Subscribers
Access to Pro Dada Manual (view online/download PDF)
Pro Dada, Forever Subscription
$199.95 one-time
Get access to Pro Dada, the Dada Mail Manual, and direct, prioritized support, for the Life of the Project! (15+ years and counting)
Direct, Prioritized Support
Unlimited Mailing Lists + Subscribers
Access to Pro Dada Manual (view online/download PDF)
See our Pro Dada/Dada Mail Manual Purchasing FAQ/T.O.S. before purchasing!
Current Pro Dada Subscribers
Log into your Pro Dada Subscriber area to download Pro Dada, View/Download the Pro Dada Manual, or Open up a Support Ticket:
Prioritized, Direct Support
Pro Dada Subscribers received Prioritized, Direct Support from us for one installation of Pro Dada, through Zendesk. Support by us is only available to Pro Dada Subscribers.
Pro Dada also does not have List Quotas (Dada Mail: three mailing lists) or Subscription Quotas (Dada Mail: 100 subscribers per mailing list) by default.
Pro Dada also comes with the Dada Mail Manual. The Dada Mail Manual can be viewed online, as well as a PDF download.
Feature

Dada Mail

Pro Dada:
Year Subscription

Pro Dada:
Lifetime Subscription

Prioritized Support
NO SUPPORT
Zendesk
Zendesk
Subscription Quota Per Mailing List
100
Unlimited!
Unlimited!
Mailing List quota per installation
3
Unlimited!
Unlimited!
Visible Link back to support site in all emails sent by the program.
Yes.
None.
None.
Visible Links back to support site in most HTML screens created by the program
Yes.
None.
None.
Visible Links in generated subscription form created by program
Yes.
None.
None.
Access to Pro Dada
No.
Yes! One Year!
Yes! Lifetime!
Access to Dada Mail Manual (Lifetime)
No.
Yes! One Year!
Yes! Lifetime!
The Dada Mail Manual
The Dada Mail Manual is a user guide for Dada Mail: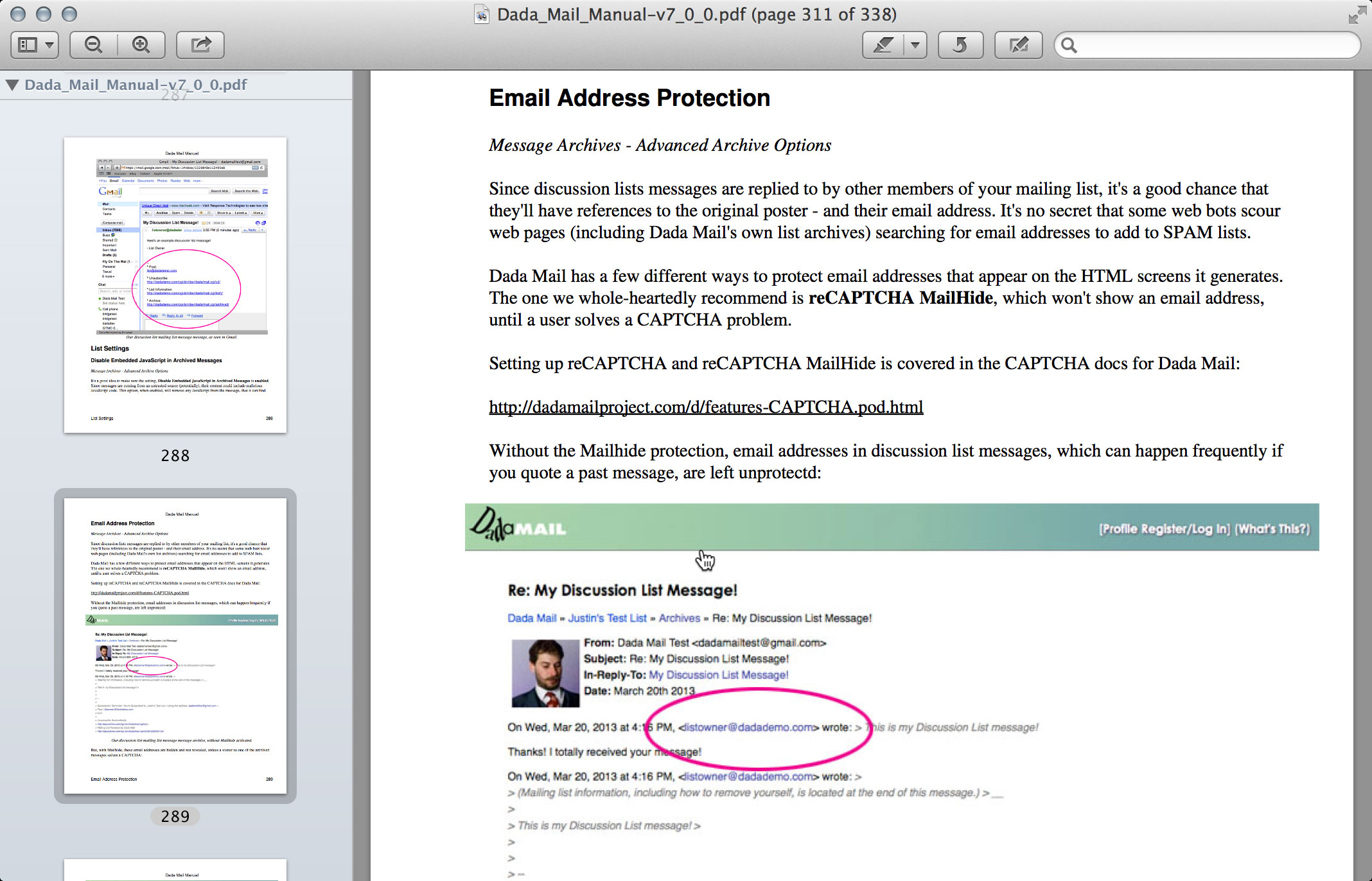 Screenshot of the, "Dada Mail Manual" PDF download
The Dada Mail Manual covers installing Dada Mail and its plugins/extensions, upgrading, creating a new mailing list, the email templating system and almost every list control panel screen. Over 300 pages, 20 chapters and 100+ screenshots. Chapters for the list control panel screens can be accessed easily from within Pro Dada and read online: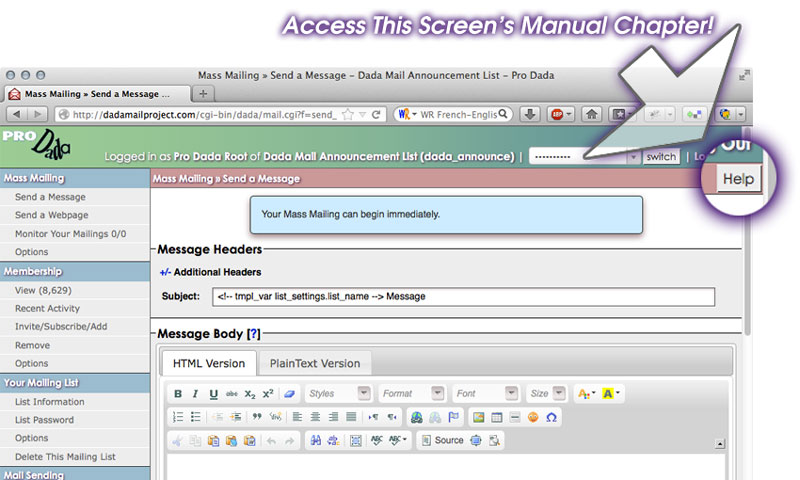 Access the Dada Mail Manual right from your mailing list's control panel
Table of Contents of the Dada Mail Manual:
Dada Mail!
Dada Mail Manual

Create a New List

Advice on Using Dada Mail
Installing Dada Mail
Install Dada Mail

Advanced Configuration with the Dada Mail Installer

Install Dada Mail, Command Line Interface
Upgrading Dada Mail
How to Upgrade Dada Mail

Install - Upgrade FAQ
List Control Panel Screens
Mass Mailing: Send a Message

Mass Mailing: Send a Webpage

Mass Mailing: Drafts/Stationery/Schedules

Mass Mailing: Monitor Your Mailings

Mass Mailing: Options

Membership: View

Membership: Recent Activity

Membership: Edit Membership

Membership: Invite/Subscribe/Add

Membership: Remove

Membership: Options

Your Mailing List: List Information

Your Mailing List: Change List Password

Your Mailing List: Options

Your Mailing List : Web Services API

Your Mailing List: Delete This Mailing List

Sending: Options

Sending: Advanced Options

Sending: Mass Mailing Options

Message Archives: View

Message Archives: Options

Message Archives: Advanced Options

Appearance and Templates: Your Mailing List Template

Appearance and Templates: Email Message Templates

Appearance and Templates: HTML Screen Templates

Appearance and Templates: Subscription Form HTML

Appearance and Templates: Create a Back Link

Profiles: Profile Fields

Your List Control Panel : Customize Feature Set

Your List Control Panel: Options

App Information: Configuration

App Information: Scheduled Jobs
Advanced Topics
Introduction to Dada Mail HTML Screen Templates

The Email Templating Language and Mailing List Messages
Plugins and Extensions
Introduction to Plugins and Extensions

Using Tracker

Using Bounce Handler

Using Bridge
Reference
Global Variables Configuration Guide
License and Copyright Information
License and Copyright
Sample Chapters
Once you've purchased Pro Dada you'll receive, via email, your subscription login information. This will allow you to download both Pro Dada and the Dada Mail Manual. You may also read the manual online, or download a PDF version.