Introducing Dada Mail 6
From: "Dada Mail Announcement List" <justin@dadamailproject.com>
Subject: Introducing Dada Mail 6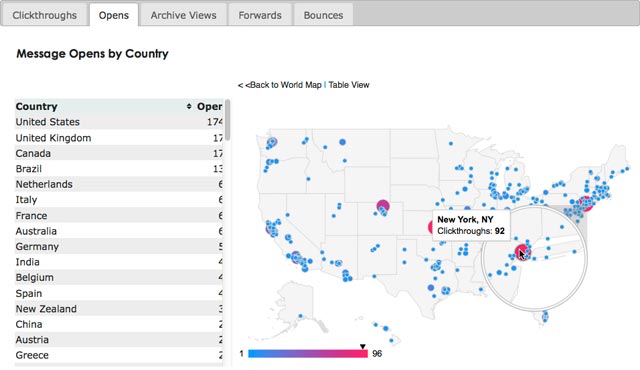 See the new Tracker plugin in action
Introducing Dada Mail v6
Dada Mail v6 has been released as a Release Candidate. New things to look for:
Refreshed User Interface - Faster to Load, Easier to Use, Modernized

Eaiser Installs, and easier upgrades

Visualizations - view information visually, with even more charts and graphs

Tracker - Redesigned, Faster loading, more in-depth information; message campaigns broken down by country, city, and IP Address; detailed interactive charts, graphs and tabular reports

Bounce Handler - More precise parsing, better bounce handling

Bridge - "pipe to command" support, blazing fast handling of message sending
Download and Install Dada Mail v6 today
Pro Dada + Dada Mail Manual
Pro Dada + Dada Mail Manual is available either as a yearly subscription at a new low price, as well as a never-ending lifetime subscription.
Pro Dada comes without a footer back to our support site and without mailing list or subscriber size quotas.
Order Securely using PayPal or Google Checkout
The Pro Dada Manual has a chapter dedicated to almost every screen in the list control panel, to provide help right where you need it.
Pro Dada Installations
Pro Dada installations now start at only $24.95 for one-time install/upgrade.
Order your own installation/upgrade of Pro Dada v6
Justin J
Lead Dadaist
The Dada Mail Project
This mailing list is a public mailing list - anyone may join or leave, at any time.

This mailing list is announce-only.
Get updates when new versions of Dada Mail are released, new features are available, and general news about Dada Mail.
Privacy Policy:
This Privacy Policy is for this mailing list, and this mailing list only.
Email addresses collection through this mailing list are used explicitly to email our newsletter subscribers news and announcements about the Dada Mail Project. The Dada Mail Project is run by Simoni Creative. We send an announcement email out to our subscribers every few weeks.
We only collect email addresses through our Closed-Loop Opt-In system.
We don't use your email address for any other purpose.
We won't be sharing your email address with any other entity.
Unsubscription can be done at any time. Please contact us at: justin@dadamailproject.com for any help regarding your subscription, including removal from the mailing list.
All mailing list messages sent from us will include a subscription removal link, which will allow you to remove yourself from this mailing list automatically, and permanently.
All consent to use your email address for any other purpose stated at the time of the mailing list subscription will also be revoked upon mailing list removal.