Multiple Test Mass Mailing Recipients
From: "Justin J justin@PROTECTED [Dada Mail Developers]" <dadadev@PROTECTED>
Subject: Multiple Test Mass Mailing Recipients
Howdy everyone, I'm working on a feature to allow you to send to >1 email addresses when you send out a test message. You can do this in one of two ways:
* first is to simply type in the addresses you want the test to be sent to, similar to how it works now. Main difference is that the app will take multiple addresses instead of just one. This is done per draft message, so that list of testing addresses you send to can be different for each draft.
* second way is by curating a Testers list, which can be add/edited the same way as any of the sublists (via Membership: View + Add). In your draft, you can just select, "Send to the Testers List!"
I'm working on making the mailing monitor jive well with a testing list. Since you're sending to > 1 addresses, you will be taken to the mailing monitor screen, rather than back to the draft, as the test mass mailing may take a little while.
You can see my work at,
This is pretty long-running project, so my personal philosophy when adding new features is to remove cruft away from the code, before doing any more work. The goal is to remove more code than I will add. For this project, I've needed to remove most all the code that has to do with how the mass mailing test used to work, and straighten some of the app out. In the end, this usually opens up opportunities to add other features more easily. For example, Oh yeah: draft messages will have a test mass mailing going out that know about each other. Why not be able to keep the draft message of a REAL mass mailing so that if you need to do some editing in the message itself while it's being sent, you can? Stuff like that.
Something to look forward to in the next release. (See my screenshot)
Cheers,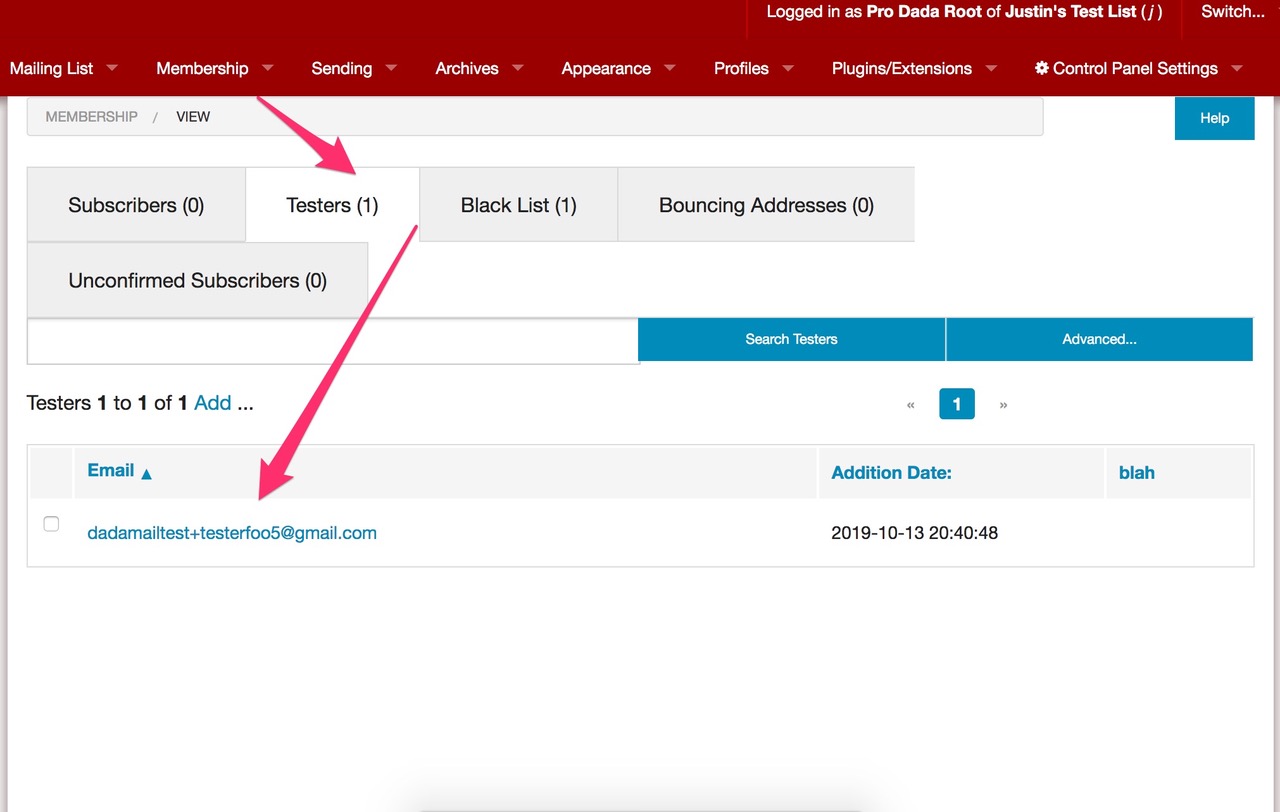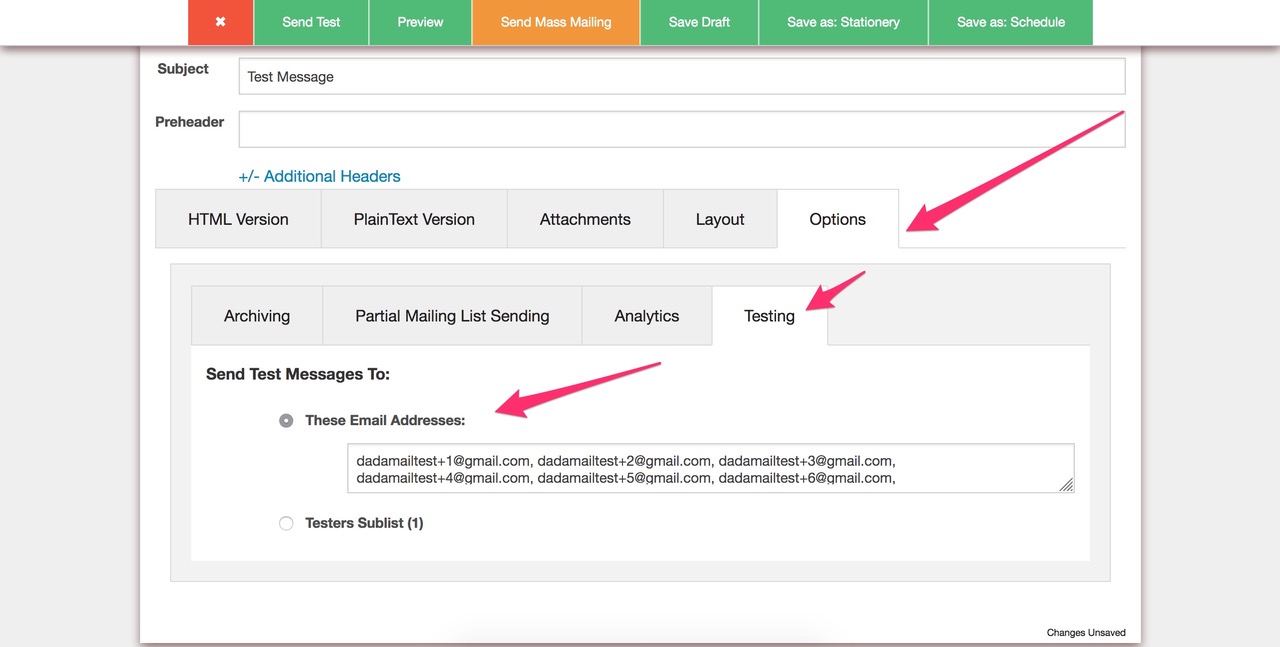 --

twitter: @dadamail

skype: leaddadaist

Dada Mail Announcements:

This mailing list is a public mailing list - anyone may join or leave, at any time.
This mailing list is a group discussion list (unmoderated)

Start a new thread, email:

dadadev@dadamailproject.com
This mailing list is to discuss the nerdy programming development of Dada Mail -
If you are just looking for support Dada Mail, consult the message boards at:
http://dadamailproject.com/support/boards

To post to this list, send a message to:
 dadadev@dadamailproject.com

All subscribers of this list may post to the list itself.
Some on topic... topics include:
Positive Crits on the program (I like, "x", but, "y" needs some work - here's an idea on how to make this better...)
Bug/Error reports
Bug fixes
Request For Comments on any changes to the program
Help customizing Dada Mail for your own internal needs
Patches
Language Translations
Support Documentation/Doc editing, FAQ's, etc.
Discussion of any changes that you would like to be committed to the next version of Dada Mail -
At the moment, there aren't many people with CVS access for Dada Mail - if you would like CVS access, please first talk about the changes you propose and how it will affect the program. If the idea is sound and agreed upon, the change will be comitted. A good track record of this will allow you to have CVS access. Some reasons that patches will not be accepted is if the patch breaks compatibility with a previous version of the program, the patch is too centric to your own problem or the patch simply isn't very good.
Please, please please familiarize yourself with the documentation at:
 http://dadamailproject.com/support/documentation/

Since no one wants to answer the same question twice.
Another sneaky reason for this mailing list is to test out the discussion list capabilities of Dada Mail, since Dada Mail is used for the mailing list itself.
NOTE - because of this, there may be times that this list will be somewhat broken. Although we're not planning on breaking the program by using it, we're giving you the heads up that this may well happen anyways.
Privacy Policy:
This Privacy Policy is for this mailing list, and this mailing list only.
Email addresses collection through this mailing list are used explicitly to work within this email discussion list.
We only collect email addresses through our Closed-Loop Opt-In system.
We don't use your email address for any other purpose.
We won't be sharing your email address with any other entity.
Unsubscription can be done at any time. Please contact us at: justin@dadamailproject.com for any help regarding your subscription, including removal from the mailing list.
All mailing list messages sent from us will include a subscription removal link, which will allow you to remove yourself from this mailing list automatically, and permanently.
All consent to use your email address for any other purpose stated at the time of the mailing list subscription will also be revoked upon mailing list removal.