Dada Mail v11.14.0 Released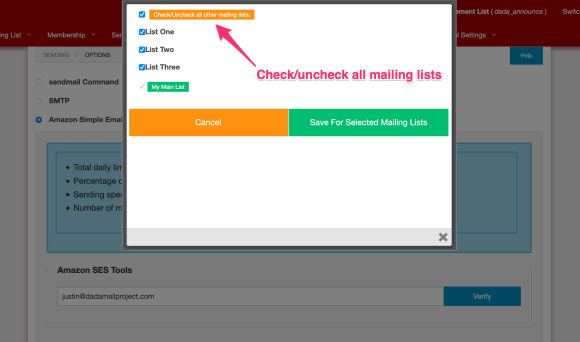 Great news! Dada Mail v11.14.0 has been released! Install or upgrade yourself, or hire us to do that for you . Dada Mail is free to download, install and try out , and we have a paid-for version called Pro Dada that lifts the restrictions on the number of lists and subscribers and gives you access to our direct support. If you've signed up for our Lifetime upgrade service, check and see if you've already been upgraded. If not, contact us and we'll take care of your upgrade.
What's New?
Check out our newest blog post for the highlights from this release and the changelog for all the details .
Pro Dada
Pro Dada is a special distribution of Dada Mail, that comes with no list/subscription limitations.
Being a Pro Dada Subscriber gives you unlimited access to download Pro Dada distribution, as well as the Pro Dada Manual. This manual is viewable online, as well as available as a downloadable PDF manual for offline viewing (DRM-free).
Being a Pro Dada Subscriber also gives you direct, prioritized support to the developers of Dada Mail through email and Zendesk. With over 19 years of experience helping people getting the most out of Dada Mail, we're here to make sure you're having the best experience when utilizing Dada Mail.
Your Pro Dada install on your own server/hosting account never expires and never becomes remotely disabled, even if your Pro Dada subscription lapses. Re-up your subscription at any time to re-enable access to new versions of the distribution, manual, and to regain our professional support.
Pro Dada comes in two pricing structures: a yearly subscription (for $99.95), and a never-ending subscription (for $199.95). We started our never-ending subscription over ten years ago, and our customers who purchased that ten years ago still have their access!
Still have questions? Email us, and we'll try to point you to the right choice for your organization.
Pro Dada Install/Upgrade Services
A Pro Dada Subscription is included, so no additional Pro Dada purchase is necessary. A few different options for installation and upgrades are available and start at $74.95 for a one-time installation or upgrade. Install/Upgrades can also come with yearly coverage and start at $174.95 and a new option: lifetime coverage for $299 (introductory price).
We'll upgrade any installation of Dada Mail, no matter who did the initial installation, or how old it is. We can also handle difficult projects, like fixing broken installations, migrating installations to a new platform, etc.
From The Dada Mail Blog:
Thanks for Reading!
Justin at Dada Mail,
since 1999