Recurring Scheduled Mass Mailings with Dada Mail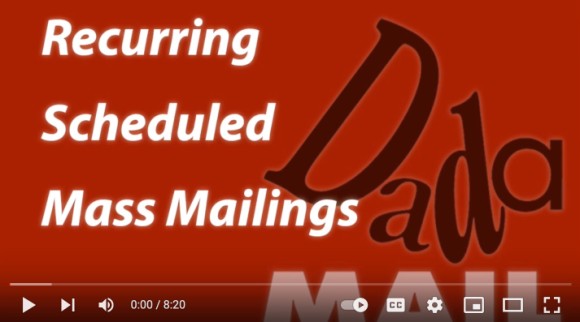 In our newest screencast, we take a tour of Dada Mail's powerful scheduled mass mailing features, and show you have to set up a recurring mass mailing that send out dynamic content from your blog. Once everything is set up, fresh content will be delivered to your subscriber's inboxes with no additional work from you! See our blog for details on this powerful feature: Recurring Schedule Mass Mailings with Dada Mail
v11.17 Released
We're happy to announce the release of v11.17 of Dada Mail! Some new features to look out for:
Only one mailing list? The default screen is now that list screen
Dada Mail supports an arbitrary number of lists, but many people just run one mailing list. If this is the case, Dada Mail will show what is usually shows in the list's own screen on the default screen. This saves user's a click to view relevant information of that one list. Multiple mailing lists? Subscription buttons for each mailing list
If you're running Dada Mail with multiple mailing lists, a button to allow a user to subscribe to each mailing list will be available. This saves the user a screen refresh to subscribe to the actual mailing list.
Schedule Mass Mailings now have an option to send right away
There's a few instances where you have a scheduled mass mailing, and you would like to just send that mass mailing right away. Now you can! Look for the button on the top bar labeled, Send Mass Mailing Now in your schedule mailing.
Periodic Login/Session Status Check
Dada Mail now will check your login/session status periodically (every 5 minutes) to make sure it's valid. If it's not, you'll be automatically logged out.
New option to show/hide a subscription form in the default, list, and archive screens
If you don't want to show a subscription form in your default/list/archives screens, now you don't have to. This option is per-list, find it in Mailing List: Options. Look for the option labeled, Show subscription form. Any subscription forms that are available to users will still work. Custom email themes are now automatically kept during upgrading
Maintaining a custom email theme can be a chore, but now it's a little easier. If you have a custom email theme, make sure it's name is also something unique to your organization. Now when you upgrade, your custom theme will be copied over to the new installation automatically. You'll no longer have to do this task manually.
Disable List Password Reset
Dada Mail has support to reset the List Password via a confirmation email after an incorrect login. You can now disable this functionality in the Dada Mail Installer.
Pro Dada
Pro Dada is a special distribution of Dada Mail, that comes with no list/subscription limitations.
Being a Pro Dada Subscriber gives you unlimited access to download Pro Dada distribution, as well as the Pro Dada Manual. This manual is viewable online, as well as available as a downloadable PDF manual for offline viewing (DRM-free).
Being a Pro Dada Subscriber also gives you direct, prioritized support to the developers of Dada Mail through email and Zendesk. With over 19 years of experience helping people getting the most out of Dada Mail, we're here to make sure you're having the best experience when utilizing Dada Mail.
Your Pro Dada install on your own server/hosting account never expires and never becomes remotely disabled, even if your Pro Dada subscription lapses. Re-up your subscription at any time to re-enable access to new versions of the distribution, manual, and to regain our professional support.
Pro Dada comes in two pricing structures: a yearly subscription (for $99.95), and a never-ending subscription (for $199.95). We started our never-ending subscription over ten years ago, and our customers who purchased that ten years ago still have their access!
Still have questions? Email us, and we'll try to point you to the right choice for your organization.
Pro Dada Install/Upgrade Services
A Pro Dada Subscription is included, so no additional Pro Dada purchase is necessary. A few different options for installation and upgrades are available and start at $74.95 for a one-time installation or upgrade. Install/Upgrades can also come with yearly coverage and start at $174.95 and a new option: lifetime coverage for $299 (introductory price).
We'll upgrade any installation of Dada Mail, no matter who did the initial installation, or how old it is. We can also handle difficult projects, like fixing broken installations, migrating installations to a new platform, etc.
From The Dada Mail Blog:
Thanks for Reading!
Justin at Dada Mail,
since 1999