Dada Mail v11.3.0 Released!
This release is special, as we've worked on making the unsubscription process a lot smoother for both the List Owners and list users - everybody wins!
Ever have a subscriber of your mailing list email you saying, " Hey I never wanted to leave your mailing list, but I've been sent a notification that I've been unsubscribed! "
And then try to figure out just what's happening? You subscribe them back on the list, and within a week, they're booted back off?
Turns out, it wasn't you or them, but perhaps another app getting in the way of your mailing list - ugh!
v11.3.0 of Dada Mail addresses these problems and concerns with more options for the list owner to when it comes to list unsubscription, as well as a more robust system in place to thwart false unsubscribes.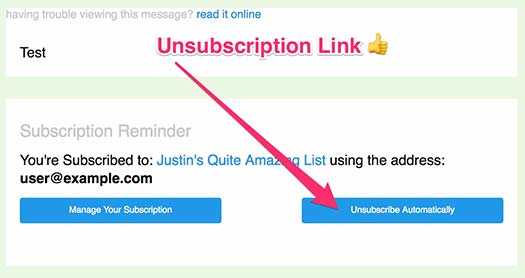 Read our blog post all about these issues here, and when you're ready, make sure to upgrade to the latest version of Dada Mail (11.3.0) to take advantage of all these new changes! Discount coupon codes for our installation and upgrade services are below:
---
Pro Dada
Pro Dada is a special distribution of Dada Mail, that comes with no list/subscription limitations.
Being a Pro Dada Subscriber gives you unlimited access to download Pro Dada distribution, as well as the Pro Dada Manual. This manual is viewable online, as well as available as a downloadable PDF manual for offline viewing (DRM-free).
Being a Pro Dada Subscriber also gives you direct, prioritized support to the developers of Dada Mail through email and Zendesk. With over 19 years of experience helping people getting the most out of Dada Mail, we're here to make sure you're having the best experience when utilizing Dada Mail.
Your Pro Dada install on your own server/hosting account never expires and never becomes remotely disabled, even if your Pro Dada subscription lapses. Re-up your subscription at any time to re-enable access to new versions of the distribution, manual, and to regain our professional support.
Pro Dada comes in two pricing structures: a yearly subscription (for $99.95), and a never-ending subscription (for $199.95). We started our never-ending subscription over ten years ago, and our customers who purchased that ten years ago still have their access!
Still have questions? Email us, and we'll try to point you to the right choice for your organization.
Pro Dada Install/Upgrade Services
Our Pro Dada Subscriptions don't include installation. Fear not: we also offer installation and upgrade services.
A Pro Dada Subscription is included, so no additional Pro Dada purchase is necessary. A few different options for installation and upgrades are available and start at $74.95 for a one-time installation or upgrade. Install/Upgrades can also come with yearly coverage and start at $174.95.
We'll upgrade any installation of Dada Mail, no matter who did the initial installation, or how old it is. We can also handle difficult projects, like fixing broken installations, migrating installations to a new platform, etc. User Coupon Code:
to get 20% off your Installation/Upgrade Total! Coupon code good until June 1st, 2019.
From The Dada Mail Blog:
Essential Docs for Installing/Upgrading:
Thanks for Reading!
Justin at Dada Mail,
since 1999