50% Off Pro Dada Subscriptions - One Day Only!
From: "Dada Mail Announcement List" <justin@dadamailproject.com>
Subject: 50% Off Pro Dada Subscriptions - One Day Only!
ONE DAY ONLY: 50% off Pro Dada Subscriptions!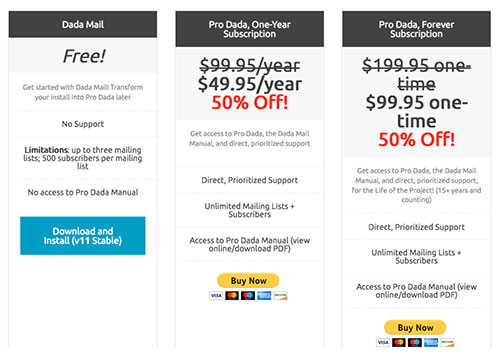 This offer is good until Tuesday, 12:00am MST.
Pro Dada is a special distribution of Dada Mail, that comes with no list/subscription limitations.
Being a Pro Dada Subscriber gives you unlimited access to download Pro Dada distribution, as well as the Pro Dada Manual. This manual is viewable online, as well as available as a downloadable PDF manual for offline viewing (DRM-free).
Being a Pro Dada Subscriber also gives you direct, prioritized support to the developers of Dada Mail through email and Zendesk. With over 19 years of experience helping people getting the most out of Dada Mail, we're here to make sure you're having the best experience when utilizing Dada Mail.
Your Pro Dada install on your own server/hosting account never expires and never becomes remotely disabled, even if your Pro Dada subscription lapses. Re-up your subscription at any time to re-enable access to new versions of the distribution, manual, and to regain our professional support.
Pro Dada comes in two pricing structures: a yearly subscription, and a never-ending subscription. We started our never-ending subscription over ten years ago, and our customers who purchased that ten years ago still have their access!
Still have questions? Email us, and we'll try to point you to the right choice for your organization.
Happy Cyber Monday!
Justin at Dada Mail,
since 1999
This mailing list is a public mailing list - anyone may join or leave, at any time.

This mailing list is announce-only.
Get updates when new versions of Dada Mail are released, new features are available, and general news about Dada Mail.
Privacy Policy:
This Privacy Policy is for this mailing list, and this mailing list only.
Email addresses collection through this mailing list are used explicitly to email our newsletter subscribers news and announcements about the Dada Mail Project. The Dada Mail Project is run by Simoni Creative. We send an announcement email out to our subscribers every few weeks.
We only collect email addresses through our Closed-Loop Opt-In system.
We don't use your email address for any other purpose.
We won't be sharing your email address with any other entity.
Unsubscription can be done at any time. Please contact us at: justin@dadamailproject.com for any help regarding your subscription, including removal from the mailing list.
All mailing list messages sent from us will include a subscription removal link, which will allow you to remove yourself from this mailing list automatically, and permanently.
All consent to use your email address for any other purpose stated at the time of the mailing list subscription will also be revoked upon mailing list removal.