Announcing: Dada Mail Nine
From: "Dada Mail Announcement List" <justin@dadamailproject.com>
Subject: Announcing: Dada Mail Nine
| | |
| --- | --- |
| | Self-Hosted Mailing List Manager |
Time for Nine. Dada Mail 9.
Dada Mail Nine Beta is now ready for you. Featuring a completely redesigned, reimagined, and responsively-designed front end, Dada Mail 9 helps you be more productive on your desktop computer, laptop, tablet, or mobile phone. Wheverever you happen to be, Dada Mail can now come along.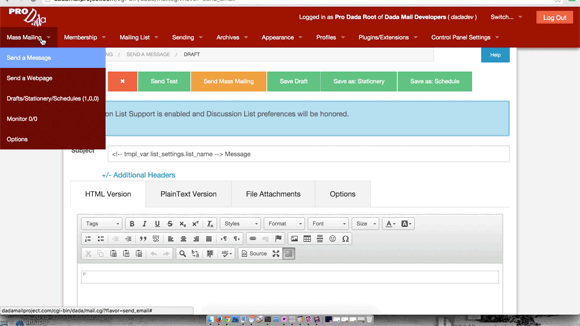 Take a Survey (This can really help us out)
Even with a brand new Dada Mail release imminent, we're planning for the future. We want to better serve you, support Dada Mail, and make sure we're spending our energy wisely - Can we ask you a few questions? We'll give you 20% off a Pro Dada/Manual subscription (Yearly, or Forever) for your troubles.
Thanks once again for a being a subscriber - and for being one of our most enthusiastic users of Dada Mail. The future looks bright!
Justin J,

Designer and Developer
This mailing list is a public mailing list - anyone may join or leave, at any time.

This mailing list is announce-only.
Get updates when new versions of Dada Mail are released, new features are available, and general news about Dada Mail.
Privacy Policy:
First, we don't share our mailing list with anyone, that's a horrible idea. Secondly, all our subscribers subscribe themselves, we don't add anyone to our list, without them going through a confirmation process. Lastly, you can leave at anytime - it's easy to do.