Amazon SES
From, http://aws.amazon.com/ses/
Amazon Simple Email Service (Amazon SES) is a highly scalable and cost-effective bulk and transactional email-sending service for businesses and developers. Amazon SES eliminates the complexity and expense of building an in-house email solution or licensing, installing, and operating a third-party email service.
Amazon Simple Email Service is a third party email sending service, you can utilize with Dada Mail. We suggest taking advantag of Amazon SES with Dada Mail for clients that:
Are having problems with their hosting account's own mail server
Want to send out to more than 10,000 recipients per mass mailing
Want to send to more recipients, or send out faster than their current web host allows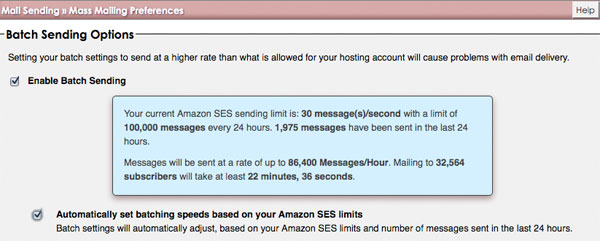 Batch settings auto-adjust to Amazon SES sending quotas.
SES sending quotas can be potentially much more accomodating than what's available on your web hosting account.
Large Message Quotas, Inexpensive Solution
Amazon SES's daily message quota and sending rate will grow with your usage, but usually starts at around 10,000 messages you may send daily, up to a rate of 5 messages/second. It's not out of the ordinary to see this grow to 100,000 messages you may send daily, and 30 messages you may send every second.
Using SES is a great way to send more messages than what your current sending quota is set, on your current hosting account. Many of our clients are stuck with an hourly quota of only 500 messages they can send every hour or less, but want to send to more people, much quicker. SES is the best way to go forward. There's no need to host your website at a different company, and Amazon SES sending rates are amongst the cheapest available anywhere: about $0.10 per thousand messages you send, billed per-use. That means, no high monthly fee for resources you may not be using. Haven't sent anything out? don't pay anything to Amazon SES.
Dada Mail works with whatever quota you currently have, to make sure you're sending as fast as you can, without going over these two limits. Once your SES sending quotas go up, Dada Mail will automatically adjust to take advantage of them.
Deliverability!
Amazon SES may boost your deliverability rates. Since all Amazon SES customers are registered, any abuse within the system is dealt with quickly and those parties are disallowed further use of SES. Perfect delivery means that every one of your subscribers receives your message. Sending an email could potentially mean working with thousands of different networks and very often enough, getting a message delivered to everyone single person is very difficult to achieve.
We do believe that when compared to a shared hosting account's pooled mail server system, you'll see much better deliverability with Amazon SES.
Verified Sending
Sending with Amazon SES allows you to verify your email message senders using DKIM
Our Amazon SES setup and configuration services include working closely with you, to set up Amazon SES correctly with your Dada Mail install. You'll only have to set up an Amazon AWS account, and we'll take it from there. Our configuration services are a flat rate of $200, once things are installed and you are sending via Amazon SES, you will be billed by Amazon for your mail sending.
Learn More:
Amazon SES works with every other part of Dada Mail and its plugins. If you utilize Amazon SES, we suggest strongly that you also get the Bounce Handler installed. The Bounce Handler will make sure you are following closely Amazon SES's own Best Practices.