Introducing Dada Mail 6
From: "Dada Mail Announcement List" <justin@dadamailproject.com>
Subject: Introducing Dada Mail 6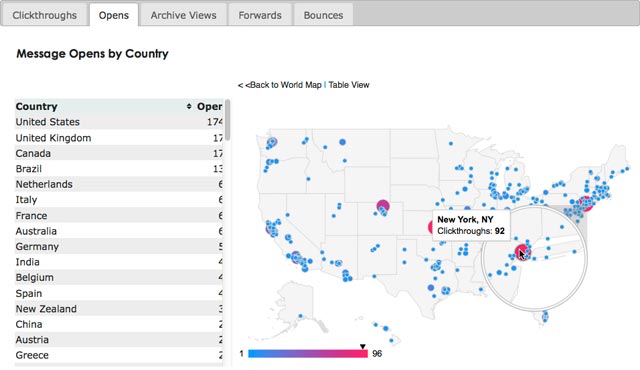 See the new Tracker plugin in action
Introducing Dada Mail v6
Dada Mail v6 has been released as a Release Candidate. New things to look for:
Refreshed User Interface - Faster to Load, Easier to Use, Modernized

Eaiser Installs, and easier upgrades

Visualizations - view information visually, with even more charts and graphs

Tracker - Redesigned, Faster loading, more in-depth information; message campaigns broken down by country, city, and IP Address; detailed interactive charts, graphs and tabular reports

Bounce Handler - More precise parsing, better bounce handling

Bridge - "pipe to command" support, blazing fast handling of message sending
Download and Install Dada Mail v6 today
Pro Dada + Dada Mail Manual
Pro Dada + Dada Mail Manual is available either as a yearly subscription at a new low price, as well as a never-ending lifetime subscription.
Pro Dada comes without a footer back to our support site and without mailing list or subscriber size quotas.
Order Securely using PayPal or Google Checkout
The Pro Dada Manual has a chapter dedicated to almost every screen in the list control panel, to provide help right where you need it.
Pro Dada Installations
Pro Dada installations now start at only $24.95 for one-time install/upgrade.
Order your own installation/upgrade of Pro Dada v6
Justin J
Lead Dadaist
The Dada Mail Project
This mailing list is a public mailing list - anyone may join or leave, at any time.

This mailing list is announce-only.
Get updates when new versions of Dada Mail are released, new features are available, and general news about Dada Mail.
Privacy Policy:
First, we don't share our mailing list with anyone, that's a horrible idea. Secondly, all our subscribers subscribe themselves, we don't add anyone to our list, without them going through a confirmation process. Lastly, you can leave at anytime - it's easy to do.